COVID SECURE
– ADVANCE NOTICE –
RISK ASSESSMENT REQUIREMENT
All Hirers are required to carry out a COVID–19 Risk Assessment, so that sensible measures can be put in place to control the risks associated with COVID-19 for hirers, their customers, visitors and staff.
Galleywood Heritage Centre is sharing its Risk Assessment with all hirers, (click here for latest), and require a Risk Assessment from each hirer, to reduce anxiety and help avoid any misunderstandings.
Hirers will be expected to consult their staff. Bookings will not be secured until risk assessment provided to Galleywood Heritage Centre at Mail@galleywoodheritagecentre.org.uk, or in person at the office at least 7 days in advance of next hire.
The Heritage Centre has a number of rooms that are available for hire, these are listed below together with links to the associated Room Hire Schedule.
Looking for a party venue for the children, adults, or for your club or society? What about Mum's or Dad's Special Birthdays, Wedding Reception or Anniversary, Fund Raising Event, Quiz Night, Folk Dance, Rehearsal Room, or a family get together? We are now taking bookings for 2020, 2021 and 2022.
In addition to the Main Hall and the smaller Heritage Room in the main building we also have a heavy duty 12m x 6m marquee erected in the grounds (available mid March to mid October) and an additional stand-alone function venue - The Common Room - an intermediate size room (10 x 7m), with a toilet block extension. (it contains a drop down projection screen a wall mounted display and a kitchenette).
For Corporate and Business Seminars -we are now offering inclusive packages, just tell us your requirements and we will quote you very competitive rates by return.
Please check the Hall Fees and Hall Terms and Conditions from the links, check availability to decide what you require then either - Call in at the Centre (by prior appointment - normal office hours are 9.00am-4.00pm Monday & Tuesday and 9.00am-1.00pm Weds to Friday) or
Email:- mail@galleywoodheritagecentre.org.uk or Phone:- 01245 357700.
Hall Fees and availability
Down load the scaled plan of The Main Building and The Common Room. (updated December 2019)
Click our Newsletter signup to receive our quarertly and special newsletters about activities at the Heritage Centre.
---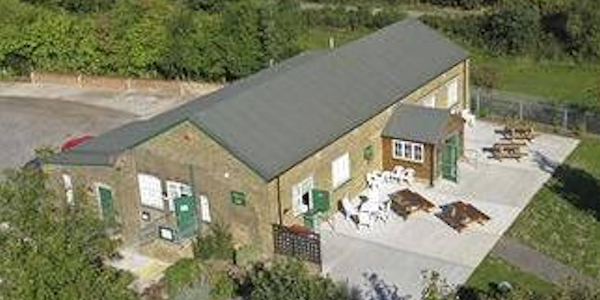 The Galleywood Heritage Centre
The Centre provides accommodation for a variety of functions, including Family Events, Club meetings, Committee Meetings, AGMs, Exhibitions, Trade Shows and Seminars.
Facilities are available for the study and private research of Galleywood's rich history, its collected archives and for the appreciation of the natural history of Galleywood Common and its environs. It houses a simple IT suite.
The Galleywood Heritage Centre is located in its own grounds in the refurbished 1920's remains of the Galleywood Race Course, northern grandstand. Situated in the middle of The Galleywood Common, designated a Local Nature Reserve in 1993.
The Centre is available for hire and also stages exhibitions of both historical and natural heritage interest, with facilities for research and continued learning. There is provision for the display of historical artefacts and archives, and also for use as a meeting place for local organisations.
The Centre also caters for those with more active interests, including walking groups, kite flyers, cyclists, and for a range of other community activities.
The Centre provides the opportunity to learn more about local flora and fauna of the Common and the surrounding areas and its associated history , including the Race Course, the remains of Napoleonic defensive earth works, a brick works and the original Chelmsford nine hole golf course.
The Horseshoe Tea Room, managed by the Friends of Galleywood Heritage Centre and provides light refreshments - see local notices and Our Facebook page for opening times.
Vehicular access to the Centre is off Margaretting Road, Galleywood; the turning by the Stables Nursery.
---
Descriptions of the Rooms available for Hire
The Main Hall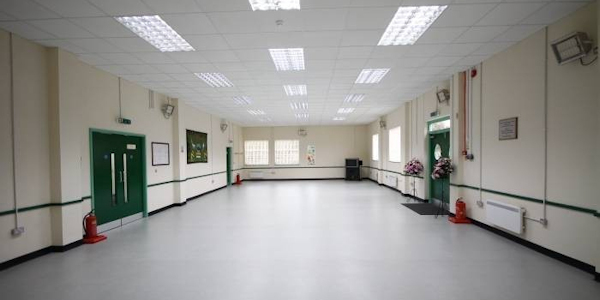 The Main Hall - 16.8m x 7.6m x 3.3m high
Bi-fold servery doors to adjacent kitchen. Optional Mobile presentation unit with PA available - 3m wide drop down projection screen.
The flooring throughout the building is industrial quality vinyl, with black PVC up-stands for ease of cleaning. All windows are furnished with vertical blinds, for effective control of both light and privacy, with curtains in the Main Hall, with electric convector heating throughout and boost heating via high level IR units in the Main Hall and Heritage Room.
The main hall has a fixed four speaker sound system with bluetooth pairing to a smart phone.
Seating for up to 120 persons or banquet space up to 96 persons
The Kitchen - Full Catering

The Kitchen - 3.8m x 3.8m.
Equipment includes all electric range cooker, with 5 ceramic hobs, water boiler, fridge, microwave, toaster, sandwich maker, crockery and cutlery for up to 96 persons. Up to four people working in the kitchen.
View Room Availability
The Kitchen - Light Refreshment facilities

The Kitchen - 3.8m x 3.8m
Equipment includes all electric range cooker, with 5 ceramic hobs, water boiler, fridge, microwave, toaster, sandwich maker, crockery and cutlery for up to 96 persons. Up to four people working in the kitchen
View Room Availability
The Ted Hawkins Heritage Room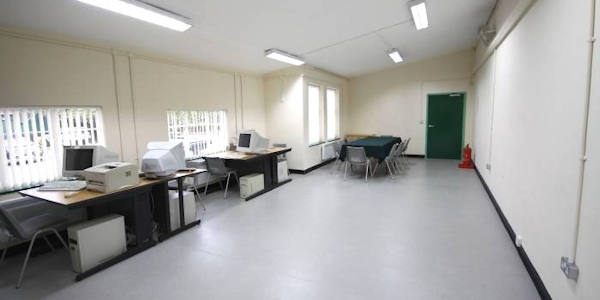 The Heritage Room - 9.4m x 4.8 narrowing to 3.8m
Four seat IT suite with space for folding tables and seating for up to 30 persons.
Maximum of 35 people.
View Room Availability
The Common Room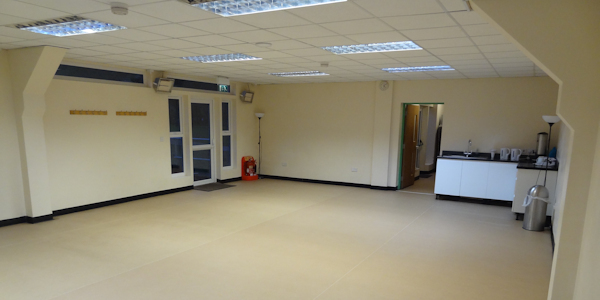 The Common Room - 10m x 7m
A stand-alone function venue seperate from the main Hall.
Refurbished in 2018, an outbuilding to provide an intermediate size room (10m x 7m), with a toilet block extension, is now available for hire. It contains a drop down projector screen, a wall mounted display and kitchenette.
Maximum of 50 people.
View Room Availability
---
The Marquee
A heavy duty 12m x 9m marquee with removable side and end panels (Wind restriction).
Erected in the grounds (available mid March to mid October only) an optional movable 800W PA system and 20A power outlets.
Maximum 100 people.
View Room Availability